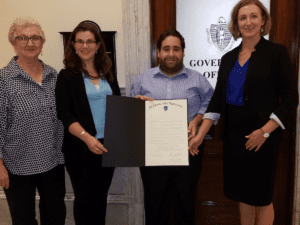 Governor Charles Baker Issues Proclamation
for Adult Day Services Week September 16-22
Cooperative Elder Services, Inc. Celebrates 40 Years of Adult Day
Health Services in Massachusetts
Concord, MA –September 14, 2018 – Cooperative Elder Services, Inc. (CESI), a leading adult day health service provider in Massachusetts celebrating 40 years of services, is thrilled to announce that Governor Baker issued a proclamation declaring Adult Day Services Week to be observed September 16-22.
Adult Day Services Week aims to raise awareness of the availability and accessibility of adult day programs across Massachusetts. The week will also reinforce that adult day health is an affordable option for keeping a loved one at home for as long as possible.
"We are honored to receive this distinguished proclamation from Governor Baker as we advance our mission of empowering seniors with medical or cognitive challenges to age-in-place by serving their health and socialization needs," said Erica Johnson, Executive Director, Cooperative Elder Services, Inc. "This notable honor not only comes at an important time in CESI's history, but also at a pivotal moment in the future of Adult Day Services in Massachusetts."
CESI will commemorate Adult Day Services Week by hosting local legislators at their sites to discuss the needs of their participants and families, recent changes to MassHealth and how the rate increases fall below what is needed to provide necessary care.
Recently, MassHealth revised its eligibility requirements for adult day services, making it more difficult for adults and seniors to access these services. Cooperative Elder Services has been a tireless advocate to ensure minimal impact to their current and prospective members in their communities. The organization aims to educate their adults, seniors and caregivers in their communities on eligibility requirements and encourages anyone who has questions or concerns to contact CESI at 781-863-1166 or outreach@elderdayservices.org.
"Cooperative Elder Services has both longevity in the field and the ability to keep programming current," said Margaret Hoag, elder law attorney and President of Minuteman Senior Services Board of Directors. "CESI offers a caring, secure, and cost-effective alternative to nursing home placement that includes support services and respite for caregivers."
The Governor's proclamation reads:
Whereas, One in ten people age 65 and older has Alzheimer's dementia nationally, with projected number for Massachusetts at 130,000, and
Whereas, This number is projected to increase by 25% by 2025; and
Whereas, a significant number of people living with dementia are comorbid with other health issues, such as diabetes or stroke; and
Whereas, Seniors suffering from social isolation are more susceptible to illness and have a higher mortality rate than their peers who benefit from regular social interaction; and
Whereas, Seniors using adult day health programs spend on average $10,000 less each year on community-based long-term care costs; and
Whereas, Adult day health programs save the state of Massachusetts over $56,000 per person each year, compared to the cost of nursing home care; and
Whereas, Cooperative Elder Services, Inc., a nonprofit celebrating 40 years, serves over 50 communities in Massachusetts, totaling more than 300 participants and their caregivers; and
Whereas, Cooperative Elder Services, Inc., serves predominately low-income seniors and adults; 80% of participants live with some form of dementia, and 75% with multiple chronic conditions,
Now, Therefore, I, Charles D. Baker, Governor of the Commonwealth of Massachusetts, do hereby proclaim September 16 to 22 to be National Adult Day Services Week.
About Cooperative Elder Services
Founded in 1978, Cooperative Elder Services is a community-based, nonprofit adult day health center serving more than 50 towns and cities in Massachusetts. At CESI, we take a holistic approach to supporting the health of seniors and adults with medical or cognitive challenges. At each of our four adult day health centers, CESI staff works toward a common goal: to empower participants to age-in-place by serving their health and socialization needs and providing support for families.